October 2023: We have answers to your most asked questions!
October 30, 2023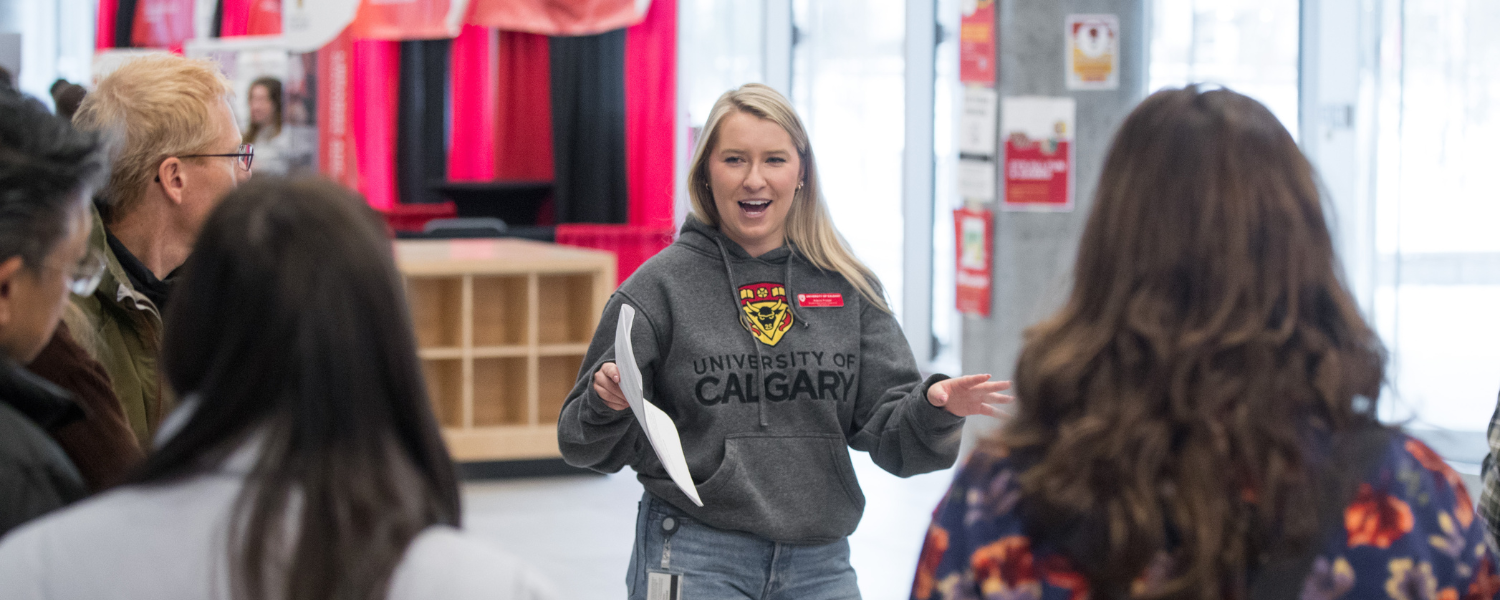 Hello from the UCalgary Admissions and Recruitment Office! We're now accepting applications for fall 2024 and wanted to highlight a few common questions we receive from prospective students, parents, and counsellors.
 
When are applications open and when can I apply?
Exciting opportunities await as our application for fall 2024 undergraduate programs has opened! The application will remain open until March 1, 2024. Our team always recommends that you apply as early as possible, as programs are competitive, and admission is not guaranteed. For more information on how to apply, click here.
As soon as we receive your application, application fee and all required documents, we can start reviewing your application. We plan to make our first round of offers in mid-November with the majority of students receiving an offer in mid-February. Please note that for international students (or Canadian students with international credentials) obtaining transcripts may take some time, so we recommend engaging early in the process to meet our deadlines. 
 
Do you offer an application fee waiver?

The University of Calgary does not typically provide a waiver or a discount on the initial application fee ($125 for students with Canadian credentials or $145 for students with international credentials). There are some exceptional cases where students who are fully supported by third-party organizations for their full tuition fees can be considered for a waiver, if their sponsor organization does not cover the application fee. We encourage you to connect with your dedicated Student Recruitment Advisor for options that may be available to you.
If you are an Indigenous student looking to access an application fee waiver, we encourage you to connect with our Indigenous Recruitment Team. Attendance in an Indigenous-specific event with our team results in an application fee waiver for self-identified Indigenous students.
 
How many programs can I apply to?
You can apply to up to 2 programs in your application. We recommend you select the program you're most interested in as your first choice and, for your second choice, opt for a program where your academic standing matches or surpasses the estimated competitive admission average.
If you receive an offer of admission to your first-choice program, this is the only offer of admission you'll receive. If you receive an offer of admission to your second-choice program, you will still be considered for your first-choice each time we receive a new set of grades. You do not need to reapply and will be reconsidered automatically.
 
Can I change the programs I have applied to?
You can change your program choices until March 1, 2024 by editing your application. Please note that, if you change your program choice for a program you were already admitted to, your offer of admission will be cancelled (including if you switch your program between first and second choice or the other way around). Here is a guide on how to edit an application after you submit!
 
How can I customize my degree?
UCalgary has many ways to customize your degree! Depending on your program of interest, you may consider one of the following:
Add a minor: A minor is an optional secondary area of focus that can be added to your degree in an upper year and is not something to declare as part of your initial application. A minor requires fewer courses (30-36 units) than a major. When added, a minor should be completed as part of the standard four-year duration of a degree. Please see here for more details on the many minors available.
Complete an embedded certificate: An embedded certificate is a credential that is comprised of 12-24 units and, similar to a minor, is added to your degree in an upper year rather than declared as part of your initial application. Embedded certificates are completed concurrently with an eligible degree program and are noted on the parchment and transcript. While most embedded certificates are completed within the degree requirements, some may require additional time. Click here to view all embedded certificate offerings.
Pursue a combined degree: A combined degree is when a student registers in two different bachelor's degrees (including honours degrees) at the same time and graduates from both degrees. You can apply to a combined degree directly from high school within the undergraduate application. Degrees can be combined in the same faculty or across two faculties and take a minimum of five years to complete, allowing students to obtain two degrees concurrently in a shorter time frame than if they are taken separately. Click here for the list of combined degree options.

What is the competitive admission average for my program?
For high school applicants, we calculate the admission average using the courses required for your program at the grade 11 or grade 12 level. If both grade 11 and 12 marks are available in the same subject, your grade 12 mark will be used. To view the five courses used for your programs of interest, visit our Admissions Requirements tool.
The University of Calgary publishes estimated competitive admission averages ranges. This is because averages can change depending on the applicant pool and throughout the cycle. You can find the estimated competitive admission averages for each program on our Explore Programs webpages. We encourage students to rely on these estimates when choosing programs and believe students will be competitive for admission if they are within our estimated range.
 
When are offers made?
Admission evaluations begin in the fall with the first round of admission offers typically being made mid-November. Admission offers based entirely on courses completed by the end of grade 11 make up about 30% of total offers made to students. This means the vast majority of offers are granted after we receive first term grade 12 results in the middle of February. There is no disadvantage to receiving an offer in February compared to November.
 
What is a conditional offer?
For students with courses in progress, your offer of admission will be conditional. For international students, this conditional offer of admission should be used to apply for a study permit.
For students who have received a conditional offer of admission, your offer will be finalized when the criteria outlined in the status link of your Student Centre is completed. Conditional offers of admission require that students maintain the academic average for the program, present all required courses for admission for their program, graduate from high school, and submit all required documents.
 
How do I apply for awards?
All high school students who have submitted a fall 2024 admission application are encouraged to apply for scholarships and awards. You don't need to be admitted to apply for scholarships or awards, in fact, we encourage you to apply for scholarships and awards as soon as you apply for admission. The application is in your Student Centre.
UCalgary awards $20M annually in scholarships and awards; award decisions are made on an on-going basis:
Automatic admission scholarships (awards based on your admission average) are awarded when students receive an offer of admission and are included in the offer of admission letter.

Prestige award winner notifications start at the end of March.

High school entrance awards winners are notified at the end of April.
Make sure you submit your application for our Prestige Award by December 1, 2023, and our High School Awards and Bursaries application by March 1, 2024!
I am interested in becoming a student athlete, how can I be considered for Dinos Athletics?
Students interested in participating in one of our Dinos Athletics teams should connect with a coach of their interested team. If you are considering a varsity team, Grade 11 or 12 is a great time to connect with the team to allow the coaches the opportunity to support you through the recruitment process.
 
Program specific questions:
Why do I have to select the common first year of Engineering as a high school applicant?
The common first year of Engineering gives you the opportunity to explore the wide range of disciplines the field of engineering offers. You will develop foundational skills in your first year that will set you up for success when you choose a major in your second year. The first year includes 10 core courses in engineering principles and design, mathematics, and science to prepare you for your remaining three years. We offer guaranteed choice of program to students who successfully complete all 10 core courses in their first year. No need to apply to enter the engineering discipline you want to pursue - the choice is yours!  
What is the Bachelor of Health Science (BHSc) supplementary application?
The BHSc program believes that we are richer and stronger when we are diverse and welcome students from a broad range of backgrounds. We acknowledge that everyone has a unique path in life, individuals face unique challenges and may not share the same opportunities. Yet, they may be a great asset to our program. Therefore, in addition to considering academic performance, applicants to the BHSc program must complete a supplementary application. Students will receive a link to this application after applying to one of the majors in the BHSc program.
The supplementary application consists of four questions that help us understand how you think and express yourself. They are questions that do not have 'right' or 'wrong' answers and they must be completed by you alone. The questions are not shared publicly.
When a you submit your supplementary application to the faculty, they remove your name (and other identifying information) and assign it a number. The answers are then independently and blindly reviewed by three individuals who each provide a score. The faculty considers the average supplementary application score in conjunction with academic performance in making admission decisions.
Does the Bachelor of Music (BMus) require an audition?
The BMus program requires either an in-person or video audition, which you will select within the UCalgary undergraduate application for admission. In-person auditions are preferred, but you may select 'video audition' if your home address is more than 150 km away from the University of Calgary. If you have selected an in-person audition, you will be notified of the audition schedule after the undergraduate application deadline. For fall 2024 admission, in-person auditions will take place on March 8, 11, and 12, 2024. If you select 'video submission' in your application, an Audition To-Do list item will generate in your Student Centre within 24-28 hours after you submit your application for admission. The video submission should be uploaded to your To-Do list as a Word or PDF document that includes the appropriate video link and password (if applicable). For more information on BMus auditions, click here.
Does the Bachelor of Fine Arts (BFA) in Visual Studies require a portfolio?
The BFA in Visual Studies requires a portfolio from applicants and must be received by March 1, 2024. Students interested in being considered for admission earlier should plan to submit their portfolios by January 15, 2024. The BFA in Visual Studies portfolio must be uploaded through your UCalgary Student Centre. A Portfolio To-Do list item will generate in your Student Centre within 24-48 hours after you submit your application for admission. Portfolios should be uploaded through your To-Do list as one Word or PDF document. For more information on BFA in Visual Studies portfolio, please click here.