October 1, 2023
Why should I apply for awards?
How scholarships, awards and bursaries can support you in your academic journey at UCalgary.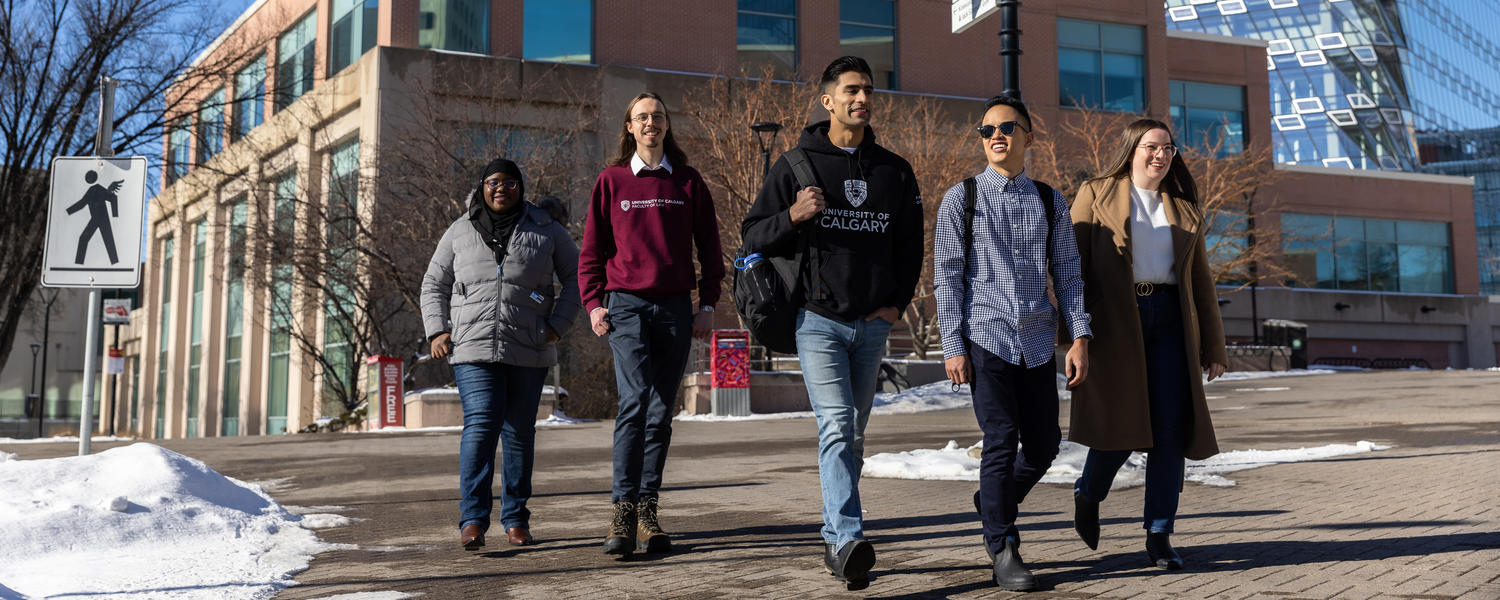 Did you know that last year, UCalgary gave out over $20+ million in awards, scholarships and bursaries to students? Nearly 25% of incoming students received some type of award!
There's an enormous variety of awards and funding available to incoming and continuing students at UCalgary. Read on to learn about the differences between awards, what's available to prospective students, and how you can apply for them.
What's the difference between awards, scholarships and bursaries?
Scholarships are based primarily on academic merit but may have additional selection requirements as well (like a specific program). Bursaries are awarded based on financial needs but may have additional selection requirements as well. Lastly, awards are selected based on multiple requirements.
Despite these three categories, UCalgary uses the umbrella term "awards" when referring to these types of internal award opportunities students have as incoming students. None of UCalgary's internal awards are loans, meaning you don't have to pay award funds back when you graduate.
Award money is given to students who meet specific criteria for an award. These awards can be created by members of the University, community groups, or individuals. Awards can be dispersed as a one-time payment or recurring over the time that you are completing your degree, depending on the award you receive. Any award money associated with the award will go toward tuition and fees first and any remaining funds can be applied to residence, textbooks, supplies, or other personal expenses.
In addition to awards in your first year, awards are available for current students too. In fact, 75% of awards are granted to second-, third- and fourth-year students, that's why we recommend that you apply every year during your time at UCalgary.
What awards can I apply for as a high school applicant?
There are three different types of awards available to high school students: Automatic Awards, High School Entrance Awards and Prestige Awards. Automatic Awards are strictly based on your admission average.
For example, with the President's Admission Scholarship, if you have 95% or higher you'll receive $5,000. For the IB Diploma Entrance Scholarship, if you have a minimum score of 35 on your IB diploma, you'll receive $2,000. The High School Entrance Awards and Prestige Awards have a mix of criteria and range in value from $500–25,000.
Are awards all grade-based?
No! While many award criteria include academic merit, there can also be considerations for leadership requirements, excellence in athletics, contribution to a community organization, and so much more.
Awards can also be given out based on the financial need of a student, where they come from and what extracurriculars they participate in.
How do I apply for scholarships?
The incoming award application portal opens approximately 24 to 48 hours after you complete your undergraduate application. This will remain open for Prestige Awards until Dec. 15 and until March 1 for High School Entrance Awards and Automatic Awards.
Pro tip: Submit your application as early as possible so you can have the most time to work on your awards applications!
How long does it take to complete the application?
At UCalgary, you are automatically considered for Automatic Awards once you submit an undergraduate application, based on your admission average. For High School Entrance Awards, once you receive access to the award application portal, you will be prompted with a questionnaire that takes about 15 minutes, with primarily yes or no questions. Lastly, for the Prestige Awards, within the award application portal, you will find an application that usually takes a few hours and has a focus on questions requiring some long-answer and essay-style responses.
Can I only receive awards from the university?
There are many ways to receive financial support during your time at university. External and government awards are offered through local community organizations and businesses. These awards have an application process outside of the one offered on your student portal.
Helpful Links: